YouTube has been investing strongly in content quality, with a stricter enforcement of their policies. This is also true for the Managed CMS, and applies to all YouTube MCNs. The key points are summed up in the requirements to be in a Managed CMS, which are:

Have all rights to the content cleared.

MCN must have Manager access to the channel.

Co-ownership of the channel between the MCN and the creator.
As YouTube notes in their
policy
, "
Owned & Operated (O&O) channels are owned and operated by the MCN. This means the MCN has obtained the rights to the channel's YouTube content
". If you meet all the requirements, this means that when you are invited to join an MCN Managed CMS, such as Freedom!, you will have to agree to grant onwership of your channel, as seen below.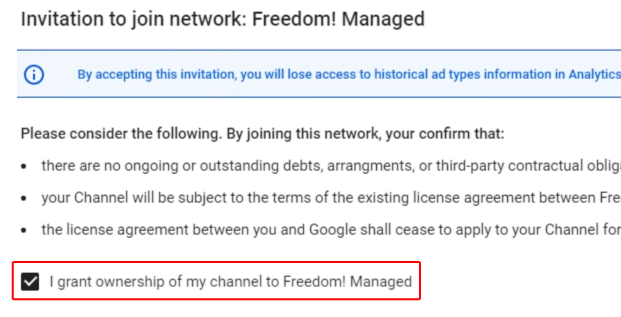 To be up to date and learn more about YouTube policies regarding Managed CMS click
here
.
We also encourage your to watch our CEO discussing this topic in the video below.