YouTube notifications are great way for viewers to keep up to date in regards to what their favorite creators are doing. However, when it comes to creators, the percentage of their subscribers that get notified and watch their content, is actually in the low numbers, more precisely, in the low single digit numbers, as mentioned by YouTube.

In an example provide by YouTube, considering a channel with 100,000 subscribers, these are the expected number:

- Around 22% of subscribers have enabled the notifications.

- Around 16% of those subscribers are "reacheable", meaning, they have agreed to receive notifications from that channel.

- From those 16%, around 2% to 3% of the subscribers actually click the notification to watch the content.

In summary, a channel with 100.000 subscribers can get around 320 to 480 subscribers to click the notifications to watch the content.

Why does this happen?

This happens because when a viewer subscribes to a channel, by default the notifications are enabled for "Occasional", instead of "All", which means he will only be notified from time to time. The viewer will only receive all notifications if after subscribing to a channel he clicks the "Bell" icon.


However, in his
subscription manager
, the viewer has the option to choose how notifications are sent per channel.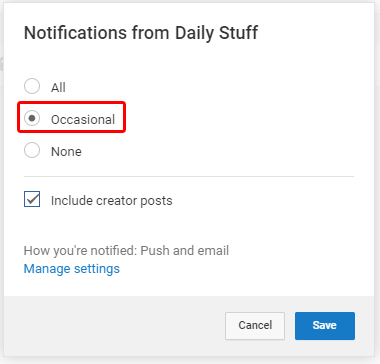 Fortunately, there are other sources of views on YouTube, such as those that come from YouTube's homepage, searches, "watch next" suggestions, subs feed browsing, and external links.
What does occasional notifications actually mean?

YouTube uses what they call "signals" to decide when to send a notification. This means that depending on the viewer behavior, which includes the history of videos watched, and frequency of videos watched for a particular channel, YouTube will send notifications of new uploads and livestreams to that viewer.
Why should a creator care about this if the number of views from notifications are so low?

When YouTube decides to promote a video, they will do it based on a number of metrics, including views, watch time, and interactions. Your subscribers are your most loyal fans, so they are the ones who have the most chance of watching your videos for longer periods of time, which improves your watch time, a key metric for YouTube. As these metrics grow, so does YouTube interest in promoting your videos to a broader audience. Even though only a small percentage of your subscribers actually follow up to your notifications, they are they ones that help you get the word out, which will in turn, grow your number of views.

How can I improve the percentage of subscribers that get my notifications?

You can make verbal calls to action in your videos and use visual elements to point out what they should do and how that is important for the channel and for them.
Here's
an example. Keep in mind that if you make it short, it will be less annoying for your current subscribers.
To learn more on how to manage your YouTube notifications, click
here
.