YouTube is enforcing Managed CMS policies more strictly
YouTube has been investing strongly in content quality, with a stricter enforcement of their policies. This is also true for the Managed CMS, and applies to all YouTube MCNs. The key points are summed up in the requirements to be in a Managed CMS, which are:

Have all rights to the content cleared.

MCN must have Manager access to the channel.

Co-ownership of the channel between the MCN and the creator.
As YouTube notes in their
policy
, "
Owned & Operated (O&O) channels are owned and operated by the MCN. This means the MCN has obtained the rights to the channel's YouTube content
". If you meet all the requirements, this means that when you are invited to join an MCN Managed CMS, you will have to agree to grant onwership of your channel, as seen below.
Please note that Freedom! no longer provides MCN services, but if you are looking for MCN specific services, please reach out to our support team at
support@freedom.tm
and we will check if we can recommend an MCN for you. Take a couple of minutes to also check our Talent Management agency at https://www.talent.tm to see what we can do for you.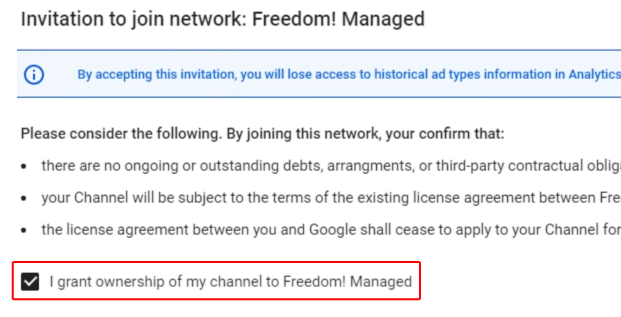 To be up to date and learn more about YouTube policies regarding Managed CMS click
here
.
We also encourage your to watch our CEO discussing this topic in the video below.
Updated: 2021-04-20
Related Articles

Music CMS limitations

A Music CMS doesn't include some of the features available in the other types of CMS, such as the Managed or Affiliate. Currently, a Music CMS doesn't include the following features: Channel Membership Super Chat Channel Membership is the feature ...

Basics of YouTube Analytics

YouTube Analytics provides you with very valuable data, but it can be overwhelming looking at all that data, if you don't really know what to look for, where to look at, and how to process it to benefit your channel. This will be the first article ...

YouTube is updating the Terms of Service on December 10, 2019

On December 10, 2019 YouTube will be updating the wording of their terms of service for greater clarity - they are not materially changing how things work, and are not introducing any changes regarding channel terminations. Here are the key items to ...

YouTube provides monetization guidelines for 8 areas

For YouTube, rating content accurately is key, as it demonstrates if creators understand what kind of content can be or shouldn't be monetized. As part of its transparency goal, YouTube has provided additional details to help creators go through the ...

Additional monetization options outside YouTube ads

YouTube ads are not your only option when it comes to earning revenue on YouTube. Below you will find a few extra options at your disposal. Super Chat Super Chat allows you to receive donations from your fans in your livestreams. To be able to use ...