What is YouTube's Self-rate feature and how does it work?
YouTube has been rolling out an experiment with a number of channels that allow the creators to rate their own videos, as to how they meet their
Advertiser-friendly content guidelines
. As this becomes available to a greater number of creators, we think you should know how this can have an impact on your content's monetization.
If you have access to this feature, you can find it following the steps below, but before that, here are some important notes so you can make sure you use it carefully as it can work for or against you:
Once you complete the process you will not be able to go back and change your answers.

Depending on your choices, your video may end up not being monetized.

Previously uploaded videos that you want to turn on ads for will need to go through this process.
Provide an honest rating for your videos to show YouTube that you understand their policies.

If you don't want to have this feature enabled on your channel, you'll need to contact YouTube Creator Support.

Benefits for creators:
More control: YouTube's automated systems can make mistakes and we know it's frustrating when that happens. If you're able to rate your content accurately, YouTube will use your input over their automated systems. This will help your videos get appropriately monetized from the start, which can help you make more money.

More feedback: After a video has been reviewed by YouTube's of raters, they will share with you how their raters made that decision. This should help you understand YouTube's ad-policies better!

Improve YouTube's systems: YouTube uses their input to improve their automated systems so that it can make more accurate monetization decisions, this benefits the entire creator community!

Tips on how to do well

Review YouTube's advertiser-friendly guidelines and examples.

Follow this step by step guide to self certify your first video!.

Be accurate with your ratings, especially for videos that are not advertiser-friendly. It is important for YouTube that you accurately identify brand unsafe content yourself, the type that gets a yellow icon. Important: if you're not able to accurately identify yellow icons yourself, YouTube will need to keep using their automated systems to do so.

If you're not sure how to rate your video, upload it as unlisted and rate more conservatively (something that will trigger "limited ads"). Once you do that, request a manual review. This way, YouTube's human raters can give you a final decision before it goes out to all your viewers. Once you have confirmation, you can publish your video, or go back and make edits and upload a new version.
To learn more about YouTube self certification? Click
here
.
Violence in video games (update December 2, 2019)

For gaming content creators, this means:

Less restrictions for violence in gaming.

Future gaming uploads that include scripted or simulated violence may be approved instead of being age-restricted.

If gory or violent imagery is the focus of the video Youtube may still age-restrict the content.
Preview of this feature: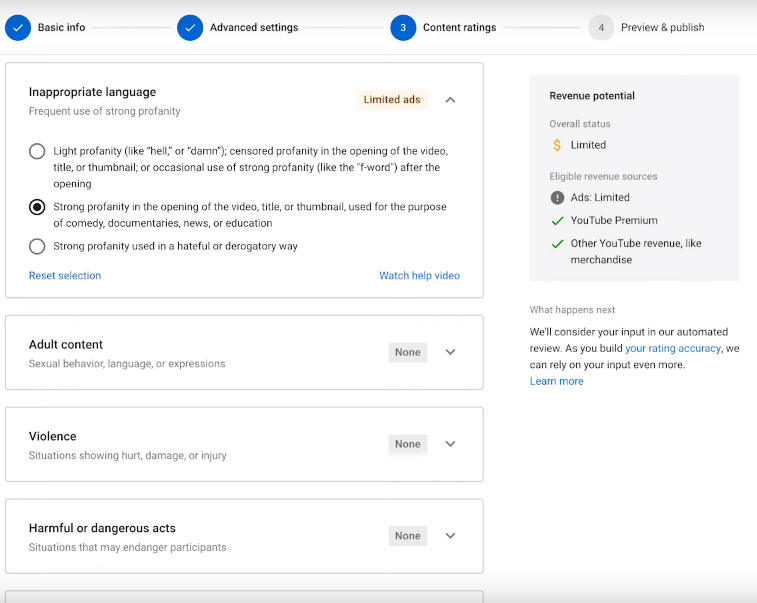 STEPS:

In your YouTube Studio, go to the videos tab, select the video you want to review, and click Edit


Select the "Monetization" tab and click the "Self-rate my video" option.



At the top, you will be able to choose how you want to rate you video. Until you get more familiar with the process, we recommend you choose to answer each question individually, as you will be able to better understand what YouTube will consider to enable the monetization of your video.



If you chose to reply to each question individually, you will see a multiple choice kind of question. It's very important that you read and understand each one to accurately select the appropriate option. Here is an example of what what the process looks like.



Once you finish answering, click "Done".


Make sure to watch the video below for additional details.

Related Articles

YouTube provides monetization guidelines for 8 areas

For YouTube, rating content accurately is key, as it demonstrates if creators understand what kind of content can be or shouldn't be monetized. As part of its transparency goal, YouTube has provided additional details to help creators go through the ...

YouTube updates policy enforcement for violence in video games

Starting December 2, 2019, YouTube will treat violence in video games the same way as other types of scripted content. With this update YouTube wants to make a clear distinction between real-world violence and scripted or simulated violence, such as ...

Upcoming changes for content targeting kids on YouTube

After concerns raised by the U.S. Federal Trade Commission (FTC) regarding YouTube's compliance under the Children's Online Privacy Protection Act (COPPA), YouTube announced changes that will be made in about in the next four months. When ...

YouTube is updating the Terms of Service on December 10, 2019

On December 10, 2019 YouTube will be updating the wording of their terms of service for greater clarity - they are not materially changing how things work, and are not introducing any changes regarding channel terminations. Here are the key items to ...

How does the YouTube Trending tab work?

If your curious about your chances of getting your videos in the Trending tab for additional exposure, below you will find some of the information that YouTube considers to make up the list of videos on display. When is the list updated? The list is ...