As of the 2nd of December, 2015, launched its new program made available to partners within MCNs called the YouTube Partner Program (YPP). As a member of the YouTube Partner Program, you will gain faster access to new features, and revenue streams, as they become available, such as revenue sharing on eligible third-party content in your video (i.e. cover songs, or videos that use music). You will benefit from a direct relationship with YouTube, while maintaining the same operational relationship with Freedom! *. Keep in mind, joining the new YouTube Partner Program won't affect your partnership at Freedom!, and it won't interfere with Freedom!'s current processes, and procedures.

*
Please note that Freedom! no longer provides MCN services, but if you are looking for MCN specific services, please reach out to our support team at
support@freedom.tm
and we will check if we can recommend an MCN for you. Take a couple of minutes to also check our Talent Management agency at https://www.talent.tm to see what we can do for you.
To sign up for the YouTube Partner Program, simply go to your
YouTube dashboard
, and you should see the following notification (if you do not see the option to sign up, then you might not be eligible to join
this new program at this time
due to:
Songs or pieces of music that aren't eligible for revenue sharing
Music (including cover songs, lyrics, and background music)
Graphics and pictures (including photographs and artwork)
Movie or TV visuals
Video game or software visuals. Learn more.
Live performances (including concerts, sporting events, and shows)
However, give it some time, as you might see the notification to join at a later date.

See George's video regarding YPP answering common questions and showing you how to join the program:



Or follow this step-by-step guide. Go to https://www.youtube.com/account_monetization





Read the Guidelines and Information Q&A to get answers to the frequently asked questions about the program.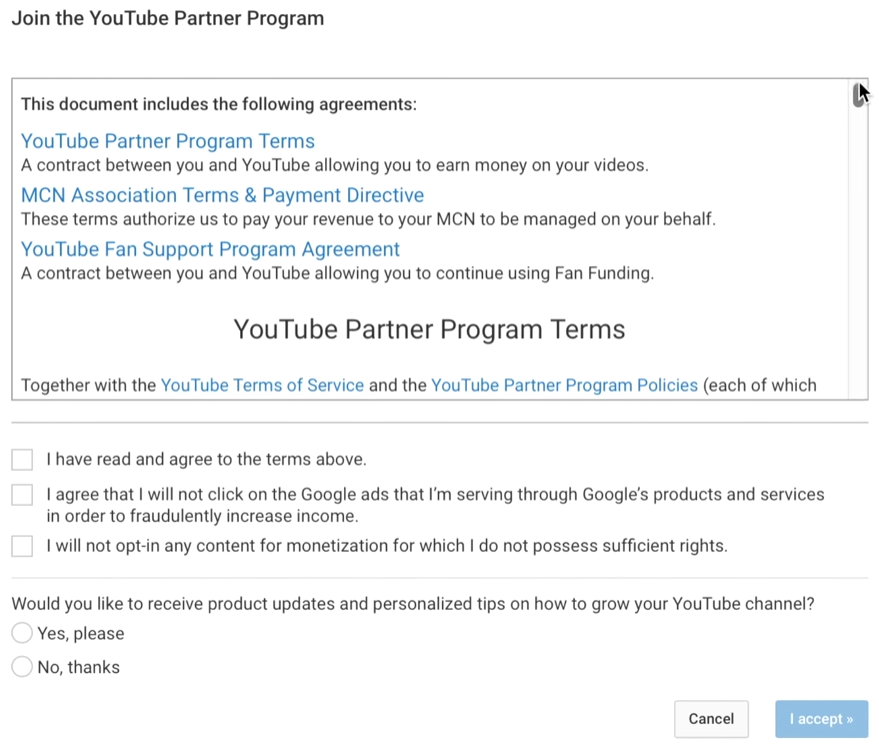 Read the terms carefully. Please do not hesitate to contact us if you have any questions regarding the terms, or this program. Please select ticket type Monetization if you do so! Once reviewed, click on all the tick boxes, and click on I agree.

After you have accepted the terms, you will see a confirmation banner. Congratulations! You are now a member of the YouTube Partner Program.

Updated: 2021-04-20