As Live streams become more and more popular, it becomes more difficult to share a message and get noticed in a chat with hundreds or thousands of users. To give anyone a chance to stand out from the crowd, YouTube introduced Super Chat.
Watch the following video so you can learn more about how it works and make sure you read the additional information below.
Any user watching a livestream will be able to purchase a Super Chat, which is a message that is highlighted in the chat stream and that will remain pinned to the top of the chat for up to 5 hours.
For (super) fans
This is a great tool that can greatly improve your chances of being noticed by the other viewers as well as the creator.
For creators
This means that you have an additional way to monetize your live streams and keep track of conversations.
YouTube takes 30% of the revenue generated by Super Chat
Payments can range from $1 up to $500
Creators can track Super Chat earnings directly in YouTube Analytics
What is the percentage Freedom! takes from your Super Chat earnings?
You decide what is the percentage of the Super Chat earnings you want to share with Freedom! You can take 100% of the Super Chat earnings, or you may decide to give Freedom! a percentage of those earnings, which will be added to a pool of money. Freedom! will then give that money back to the community in the form of giveaways, contests, competitions or other initiatives.
You are able to select the amount of your Super Chat earnings that you would like to share with Freedom! in the Freedom! dashboard, by following these steps:
Click your avatar on the top right corner of the dashboard.

Click the settings gear icon.

Select the "Revenue Shares" tab.

Click "Edit" next to Super Chat.
Add the revenue share you want for yourself, and the reason why you would like to share a percentage of the revenue with Freedom! Then click the "Save" button.

To learn how Freedom!, with the help of the the community, reached a decision about the Super Chat earnings, check the video below:
Super Chat requirements
Channel needs to be enabled for live streaming

Channel is monetized

Channel has more than 1,000 subscribers

User needs to be over 18

You are located in one of the countries where Super Chat is avaible.
If you are eligible to activate the Super Chat, you will be able to do so in your YouTube Features page.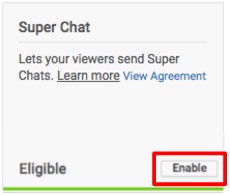 For more about the Super Chat. click here.