As a Freedom! partner you are able to select your preferred payment method directly in your Freedom! dashboard. Below you will find the steps you need to take to select Tipalti as your payment preference, which allows you to receive payments by bank transfer, direct deposit, cheque or prepaid debit cards on different currencies.
Note: For the more details about Tipalti, such as the requirements to access this type of payment, click here.
1. To edit your payment method, go to your Earnings page of the Freedom! Dashboard, and click the "Edit" button in the Payment Method area at the top right of the page. That will automatically send an email with a verification code. Please note that the verification code will expire in 30 minutes. 
2. Copy the code you received in your email and paste it in the verification box. Then click verify.
4. Enter the verification code you received on your email and hit "Submit".
5. After sucessfully going through this security verification you will be able to choose the payment method for which you are eligible. Select Tipalti and click "Save".
6. Click Edit Tipalti, this will bring up a form where you can set the account information for your Tipalti account.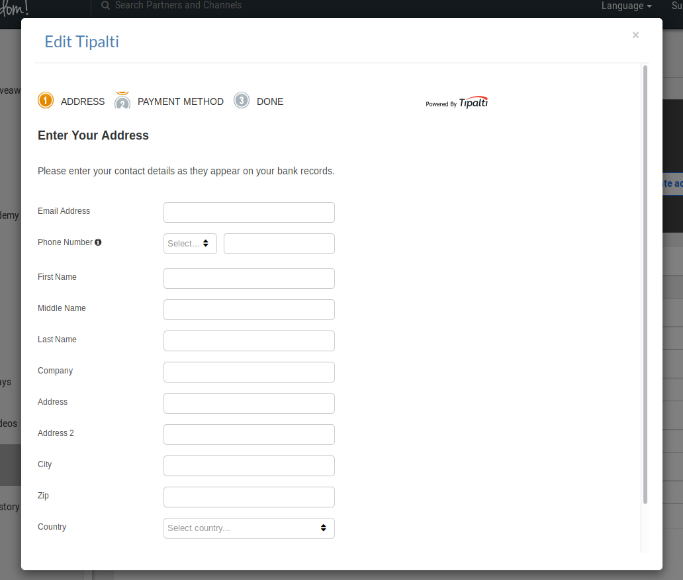 7. Once you are done setting up your Tipalti account, your can then close the form and the Tipalti status in the Payment method field will be updated.
8. If you have selected Tipalti as your payment method but have not yet set up your Tipalti account you will see this. To solve this edit your payment method by following the steps above.

In case you find any problems or have any questions, be sure to reach out to our Support team by clicking here or in "Submit a request", at the top of this page.